Announcements:  New faction available-Djinn Tribes. infopages are under construction 
The Dark Watch is in need of more members--talk to Kaneda or Lysander for details 
Please note this wiki is optimized for displays 17in and below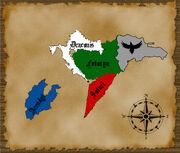 Welcome to the Raz Wiki
An infohub for the Raz Empire IMVU RP.   
Welcome! If you are not a member of Raz please do not mess with our pages.
Our RP Rules can be found here.
The Imperial Charter can be found here.
Join our Wiki chat here

Clan Listing
Soturi  (5 members)

Futoxyn (4 members)
Arendyl (2 members)

Draconis (4 members)
Djinn Tribes
Djinn (Origin)Djinn
Elders Listing
Does anyone read this far down?
Stuff no one actually looks at but is good for reference
Community content is available under
CC-BY-SA
unless otherwise noted.